Types of Copper Hoods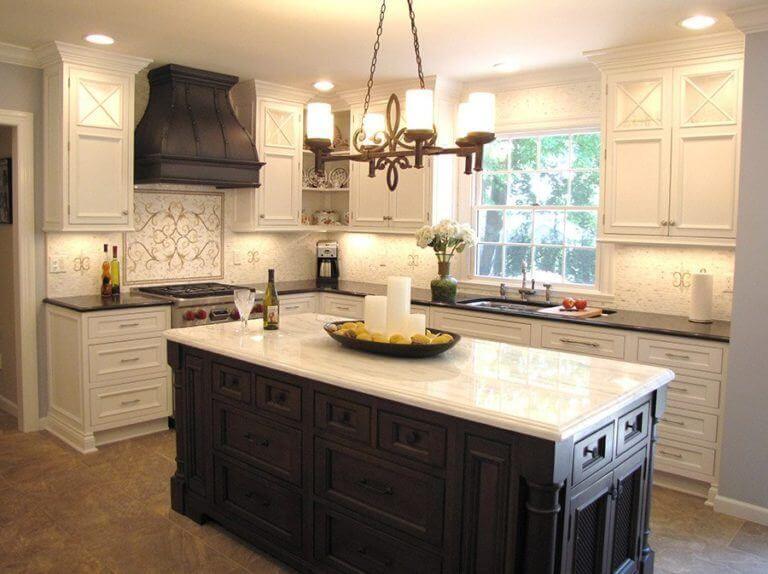 Which Copper Range Hood is right for you?
Trying to figure out what type of copper range hood is right for you? Copper Hoods can help determine the appropriate application by defining some of the different types of hoods to choose from. There are three main types of applications which will dictate the right copper hood for you.
Freestanding Hood Applications
One of the most common types of range hoods is a hood we call "freestanding". These copper vent hoods typically do not touch the upper cabinet design in the kitchen and are mounted directly to the wall. Most copper hoods on the market are originally designed to be freestanding, however, a freestanding wall mount hood could, in theory, fit snug between your upper cabinets. These designs most often are designed to go all the way to the ceiling without an additional "chimney". In some cases the ceiling may be so high that an additional simple chimney may be added on top of the original design to accommodate the vent, or duct, coming out the ceiling. Freestanding hoods are often curved on the sides and this "void" between the cabinets would be covered either by paint or a matching backsplash tiled up to the hood. All of the copper range hoods at Copper Hoods can be modified to fit your individual needs.
Flush Mount Hood Applications
Another popular hood application is the "flush mount". This application is either placed under a cabinet or directly between two upper cabinets. These copper hoods are typically vertically straight and do not expose a "void" between the cabinets and the hood. Flush mount hoods are a great way to introduce a copper vent hood without the price of a large hood because the cabinets typically limit their size. Many flush mount applications are vented out the cabinets or the wall due to ducting restrictions; however, any hood can be vented out the wall when the appropriate steps are taken.
Island Hood Applications
Perhaps the most grand of the three different types of copper hoods are the island hoods. This application works only when the range is placed in the middle of the kitchen most often over an island. Copper island hoods can be made in the same shapes as the freestanding hoods, or flush-mounted hoods. An island hood does have four sides as opposed to three sides and lends itself to very nice apron wrap-around designs. This type of application is best with a ceiling vent, however, the ducting can run horizontally with the ceiling and be vented out the wall if those restrictions apply.
Our experts at Copper Hoods can answer your design, technical and aesthetic questions. If you have any concerns, questions, or curiosities, please reach us at 1-866-672-3401 or through our contact page.