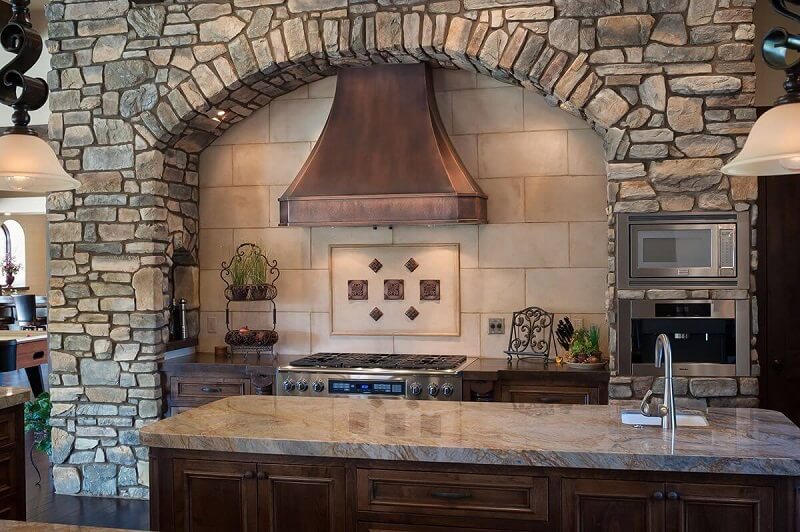 "Duluth" Farmhouse-Style Stove Hood with Soft-Hammered Texture Antique Copper
The beautiful brick and detailed tiles help give this kitchen an eclectic farmhouse look. The antique copper-colored custom vent hood, with soft-hammered texture matches with the tiling and instantly brightens up the room. It adds a polished finish to the usually understated farmhouse style. The "Duluth" custom kitchen hood catches the eye without drawing attention away from other elements. You too could have an eye-catching soft-hammered copper hood, just visit our customize page to begin designing yours today!
All hoods are made from 16 gauge, cold-rolled copper sheets. Because of our specialized welding method, we are able to offer a quality product with a lifetime structural warranty. These hoods are designed and manufactured to be enjoyed for a lifetime.
Farmhouse Style Copper Hoods
Farmhouse style is all-American. The desired effect of farmhouse style furniture is a collected-over-time look. This often includes old-school prints, distressed furnishings, and vintage finishes. A great way to create a farmhouse look is by using an antique copper color with a natural texture on your favorite hood. This creates a slightly weathered look that is still polished. The "Venetian" or "Duluth" copper hoods could also feature an antique apron print to complete the look. Check out the full collection of our farmhouse style copper range hoods.
See what other satisfied customers are saying about their copper kitchen hoods!
Call today to begin your order.