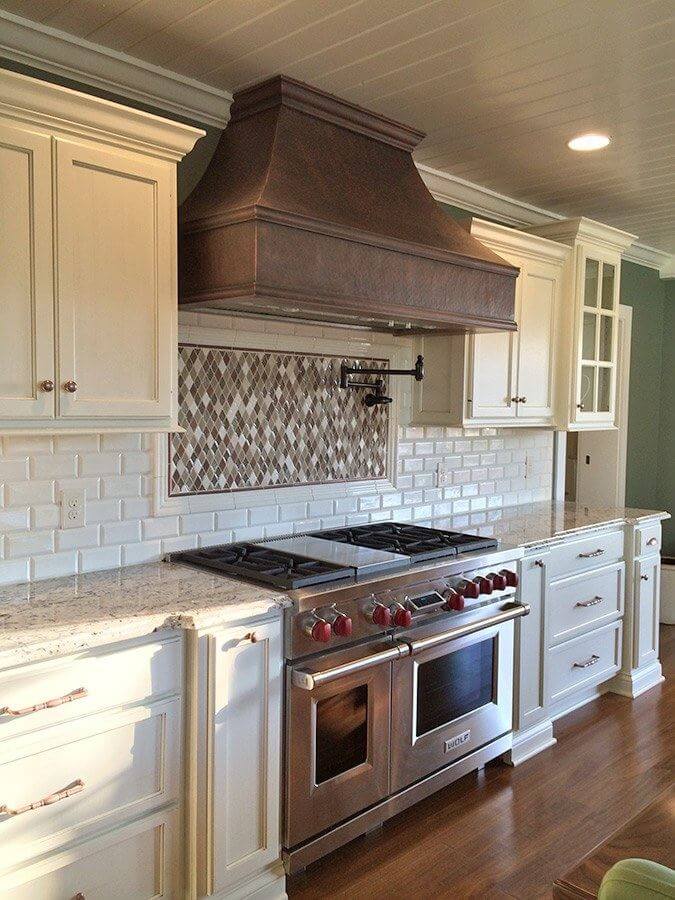 "London" Antique Copper Colored Range Hood with Soft-Hammered Texture
This kitchen has a rustic style with it's white brick, intricate tiling behind the stove and little pops of bright color. The antique copper colored hood gives the kitchen a nice finished look. It also provides a nice contrast to the white cabinets which helps this soft-hammered kitchen hood stand out. Get a copper hood in your kitchen that stands out and makes a statement in your home; visit our customization page to begin designing your own custom made copper hood.
All hoods are made from 16 gauge, cold-rolled copper sheets. Because of our specialized welding method, we are able to offer a quality product with a lifetime structural warranty. These hoods are designed and manufactured to be enjoyed for a lifetime.
Rustic Style Copper Hoods
Rustic styles use nature as an inspiration, and focus on texture and dimension rather than patterns and colors. Playing with texture is easy with our made-to-order range hoods. We have three different textures: soft hammered, hard hammered, and smooth. These can be mixed and matched to create the perfect contrast when designing your rustic hood. You can add more texture with straps, rivets, and apron patterns. Check out the full collection of our rustic style copper range hoods.
See what other customers think of their custom copper hoods.