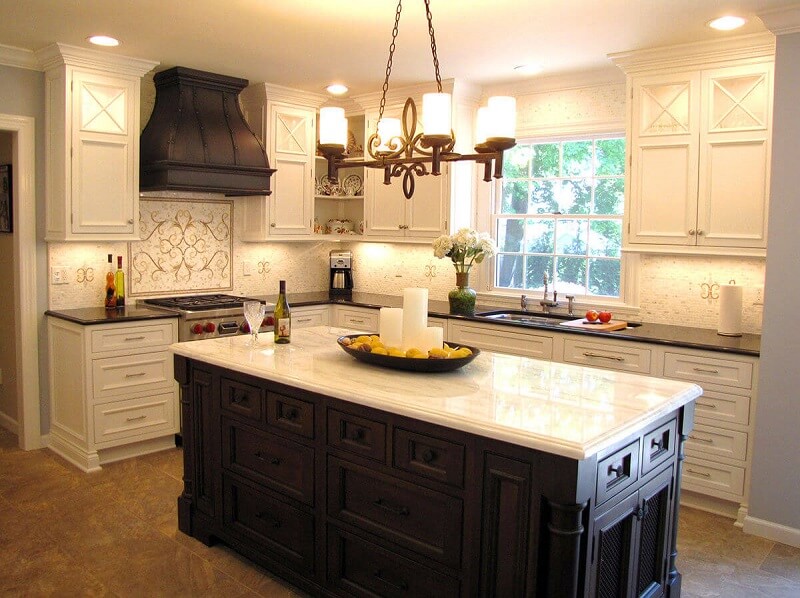 Buy Now!
"Bella" Gunmetal Copper Range Hood with Custom Straps and Rivets
This classic kitchen has traditional light fixtures and a beautiful island that creates an elegant look. The "Bella" hood has an gunmetal color and smooth texture that matches the sides of the island and contrast nicely with the lighter colors of the walls and cabinets. The traditional Italian "Bella" hood contributes to the elegance and class of this beautiful kitchen. Accents like straps and rivets can be customized to suit the design of your kitchen; visit our customize page to get started!
All hoods are made from 16 gauge, cold-rolled copper sheets. Because of our specialized welding method, we are able to offer a quality product with a lifetime structural warranty. These hoods are designed and manufactured to be enjoyed for a lifetime.
Italian Style Copper Hoods
Italian style can range can suit the style of any kitchen. The Davinci copper hood has a rustic style while the Franciscan copper hood has a traditional look. The Franciscan and Bella copper hoods are also suited for bold apron patterns. You can choose an apron pattern from the site or send an original pattern to one of our design specialists. Check out the full collection of our Italian style copper range hoods.
See what others are saying on our testimonials page.
Call today to begin your order.