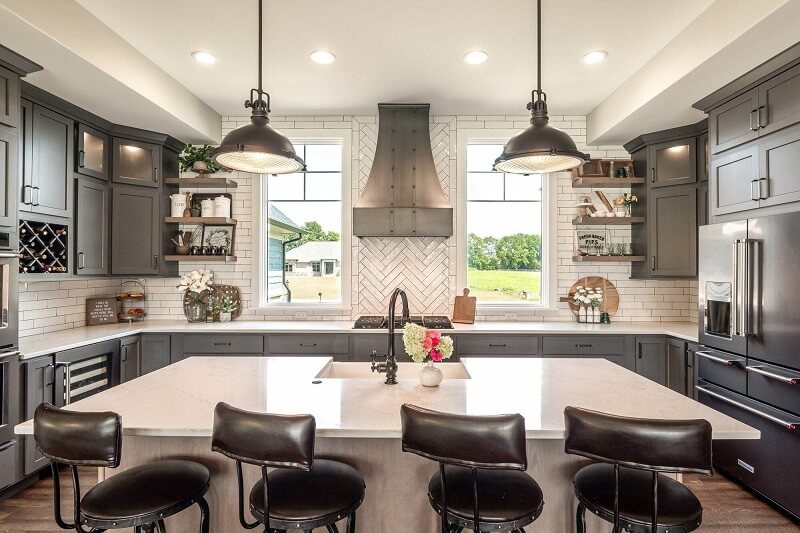 "New Orleans" Custom Riveted Modern Copper Range Hood Gunmetal
Modern style, copper range hood with a sleek bronze patina features clean-cut edges and bold shapes, with custom straps. These beautifully designed copper hood vents will fit beautifully in your home kitchen. Color, texture, straps, and rivets are all tailored to fit the style of your kitchen. Customizing your copper hood is an easy way to suit your kitchen's theme, visit our customize page to start designing your unique copper hood. For example, a darker hood would suit a modern kitchen, but an antique copper color might be better suited for a modern themed kitchen that has a slightly rustic style.
Check out the full collection of our modern style copper range hoods and see what our other happy customers are saying on our reviews page.
MODERN STYLE COPPER HOODS
The style of this kitchen has a black and white theme, so the "New Orleans" hood in a gunmetal color works perfectly. Two sets of straps and rivets along the hood add texture. Its placement at the center of the room demonstrates just how beautiful of a focal point it is.
All hoods are made from 16 gauge, cold-rolled copper sheets. Because of our specialized welding method, we are able to offer a quality product with a lifetime structural warranty. These hoods are designed and manufactured to be enjoyed for a lifetime.